Today is a big day - my last day at work (I start a new job next week) and it's also my boyfriend's mom's birthday. I want to go out with a bang, so I went over to Michael's and picked up some adorable colorful Chinese takeout-style boxes, and decided to bake cookies to give to my co-workers.
For my boyfriend's mom, I wanted to create a cake reminiscent of the famous Italian cookie, the rainbow cookie. To do this, I made three separate cake tiers, two vanilla layers and one almond-flavored layer, and colored one layer green and the other red. I sandwiched them with vanilla buttercream in between the layers, and then frosted the whole thing with more vanilla buttercream, and dusted the top with rainbow sprinkles. It's a departure from traditional rainbow cookies to use vanilla frosting (chocolate frosting is normally used) and the rainbow sprinkles were my addition as well (as a play on the name of the cookie).
Finally, the third baked good I made were gluten-free and HCG diet-friendly coconut macaroons. I had never made coconut macaroons before, and I wasn't really a fan of them to begin with, but this 3-ingredient recipe was surprisingly delicious! I will definitely be making them again - they are so easy to make.
Vanilla cake, batter recipe from
Annie's Eats
!
The dyed cake layers, stacked with vanilla buttercream, recipe also from
Annie's Eats
!
Cake inspiration: Italian Rainbow Cookies!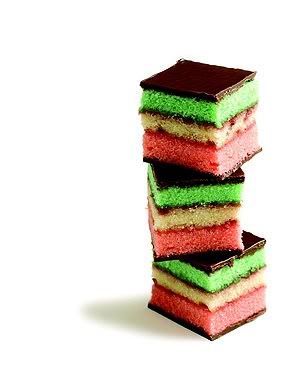 Completely frosted and decorated!
Chocolate cookies with white chocolate chips and walnuts, recipe from
All Recipes
!
Coconut macaroons, from
HCG Diet Recipes!
The finished product!